Personal Development and British Values
The personal development of our pupils encompasses all areas of school life including academic, personal and spiritual.
In conjunction with academic development, the other areas of personal development are paramount to help develop the whole child and ensure that all the children in our care will be ready to face the world of today.
The four pillars of Personal Development at Shireland Collegiate Academy Trust create a firm foundation for all children to grow and thrive.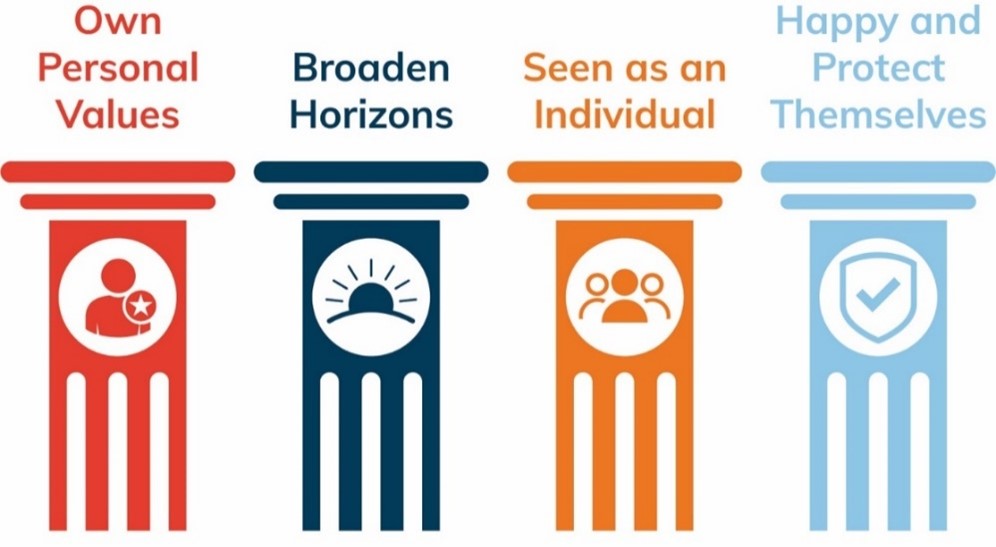 Own Personal Values – We support our pupils in developing into kind, thoughtful and reflective young people who are able to live and learn alongside others with different personalities, beliefs, cultures and lifestyles.
Broaden Horizons – We offer new and exciting experiences to ignite new passions, create lifelong memories and prepare our pupils for a world full of opportunity.
Seen as an Individual – We want all our pupils to be given the room to be successful, pursue their interests with confidence and grow into well-rounded young people.
Happy and Protect Themselves – We provide pupils with the knowledge, environment and experience they need to ensure they are able to keep safe and resilient.
We aim to provide a range of trust-wide, school-specific and individual opportunities, working in partnership with families, to ensure that our pupils can develop in each of these areas and grow into confident, well-rounded young people. These opportunities are included within our assemblies, our E3L and wider curriculum and the ethos of our school.
British Values
We are committed to serving our community and embrace the belief that at the heart of a modern, ever-changing community is the acceptance of key British values. As a school, it is our responsibility to ensure that our children understand and follow the British Values, so that they are prepared for life in modern Britain.
The promotion of British Values is one element of our personal development provision, so that our children will be able to grow as individuals in the community and country in which we live. We believe that this is something not only achieved through the curriculum, but through the school's ethos as well as its provision for pupils beyond formal lessons.
We are committed to ensuring that pupils behave in a way that is at all times accepting and open. Through our diverse and innovative E3L curriculum, explicit teachings through personal, social, health and emotional (PSHE), religious education (RE) and our assemblies programme, we address the core ideals of modern Britain, whilst challenging those that contradict them. We also offer focused opportunities for pupils to reflect on the importance of British Values and their significance to us in Britain, for example through 'Democracy Day'.
We promote the fundamental British values of democracy, the rule of law, individual liberty, mutual respect and tolerance of those with different faiths and beliefs. It is essential that we ensure all of these are promoted and respected, to enable our children to grow and develop their own personal values.
Religious Education
Our Religious Education curriculum teaches pupils about the beliefs and practices of all major religious groups, including Christianity, Islam, Sikhism, Hinduism, Judaism, Buddhism and Humanism. This is a key part of supporting our pupils to embrace and appreciate the beauty and diversity of their community and life in modern Britain.
Pupils learn about major religious festivals and celebrations, as well as religious practices, places of worship, rituals and beliefs.